Bold Adventure (1983) #1-3
This is a writer-driven anthology: All the stories are written by Bill DuBay, who's best known for writing (and editing) a number of Warren anthologies. So perhaps Bold Adventure can be thought of as an updated version of those.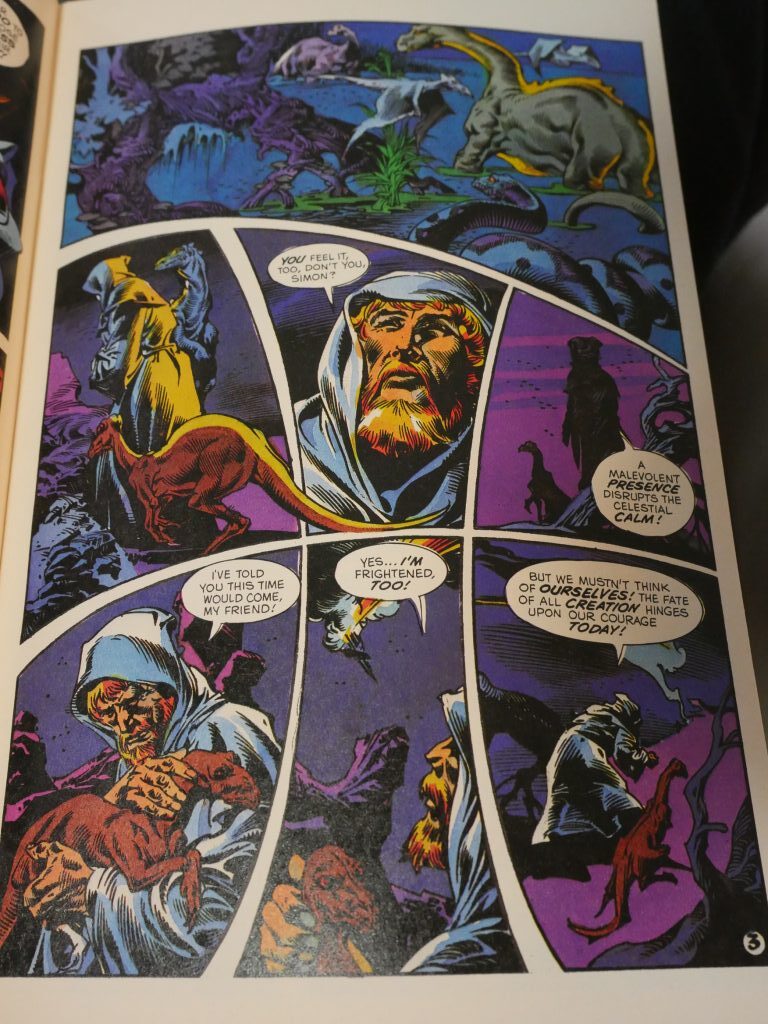 So you've got all kinds of genre stuff, like this sci-fi/fantasy thing (drawn by Rudy Nebres).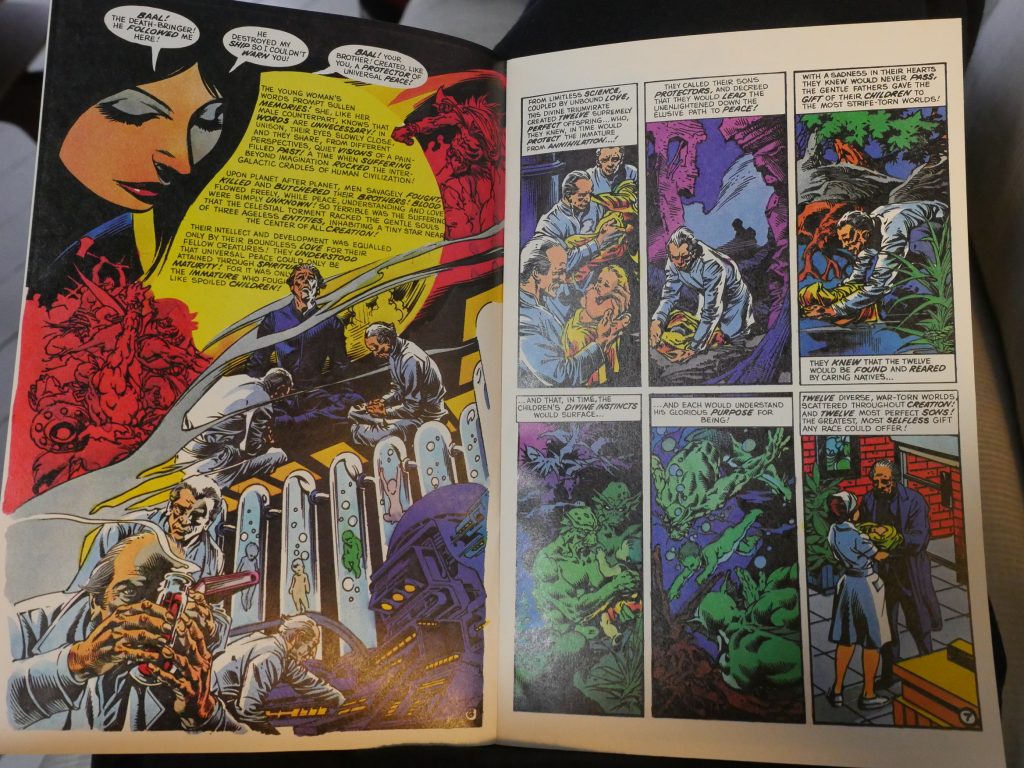 It starts off well enough, but then DuBay goes into 'splainin mode, and doesn't really do anything more for the three chapters it takes for it to end. It's 90% exposition, and then something vaguely happens.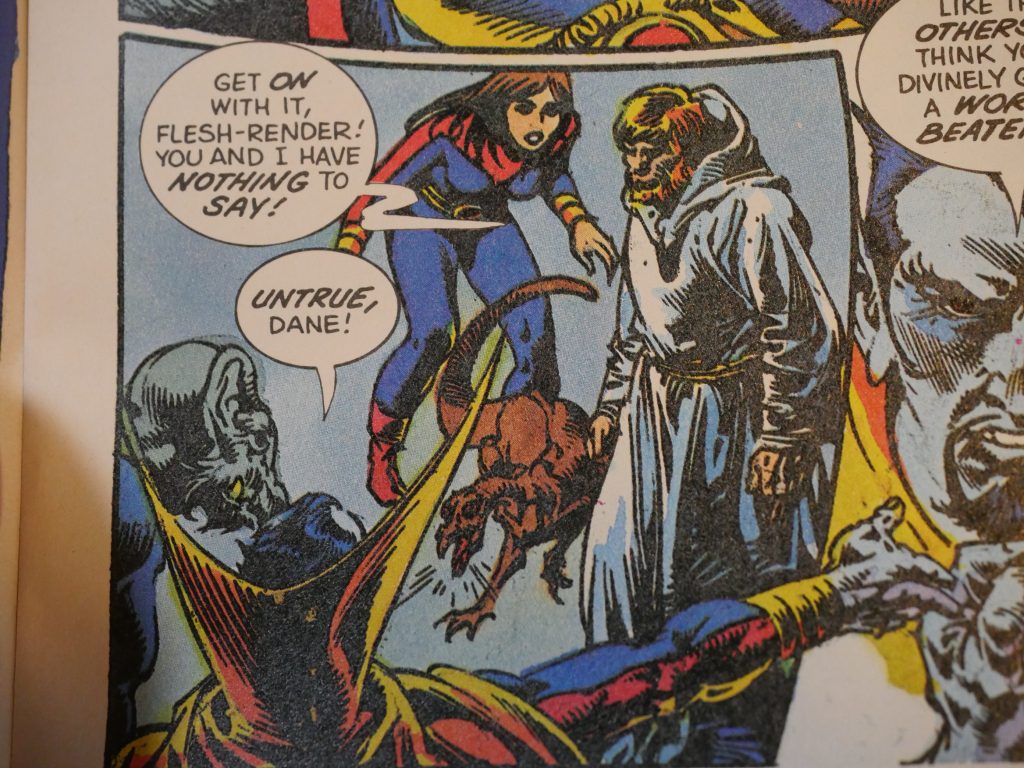 Flesh-render!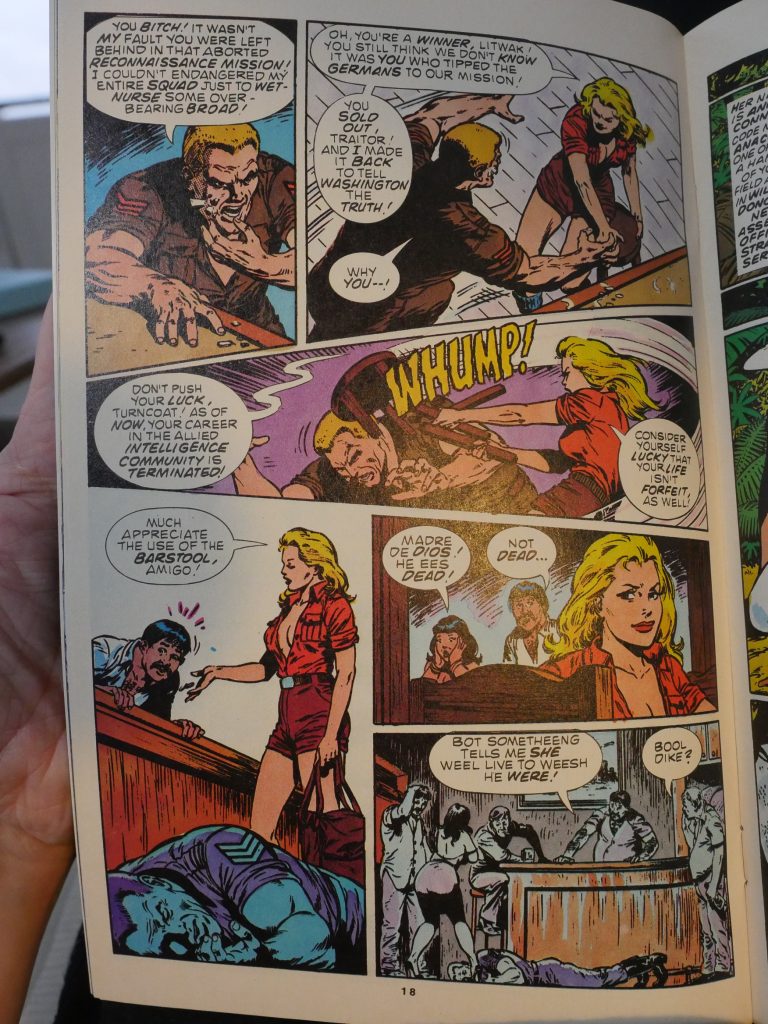 Bob MacLeod illustrates a brief story about an adventurer fighting some Nazis or whatever was going on…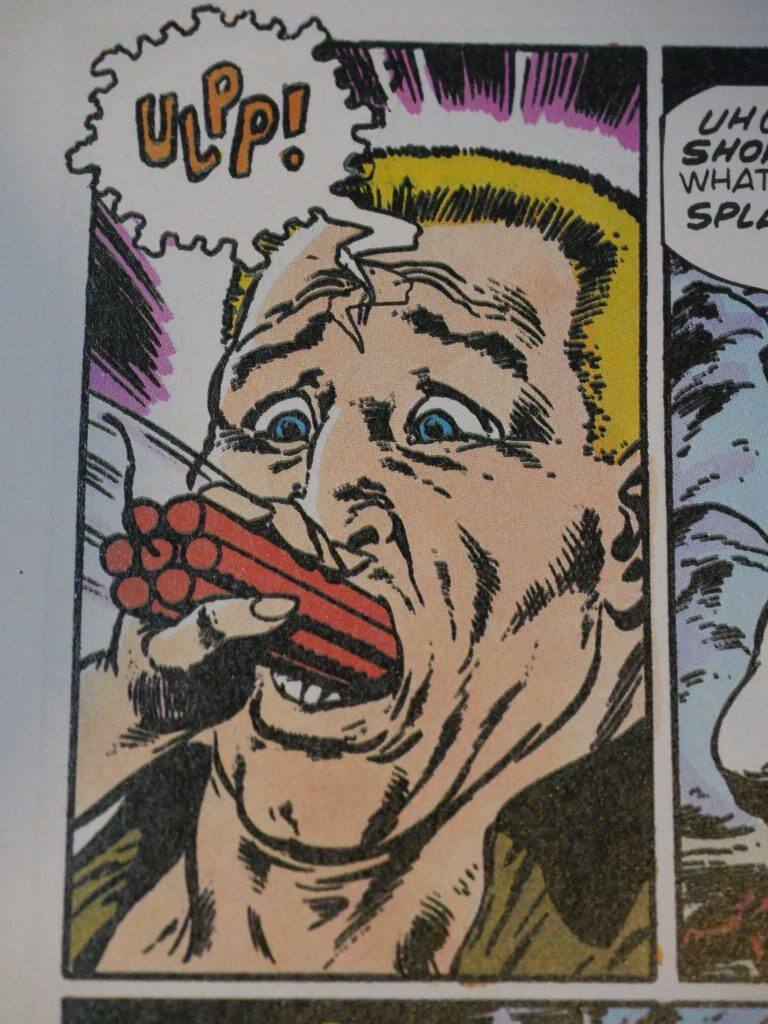 Those are very small sticks of dynamite, aren't they?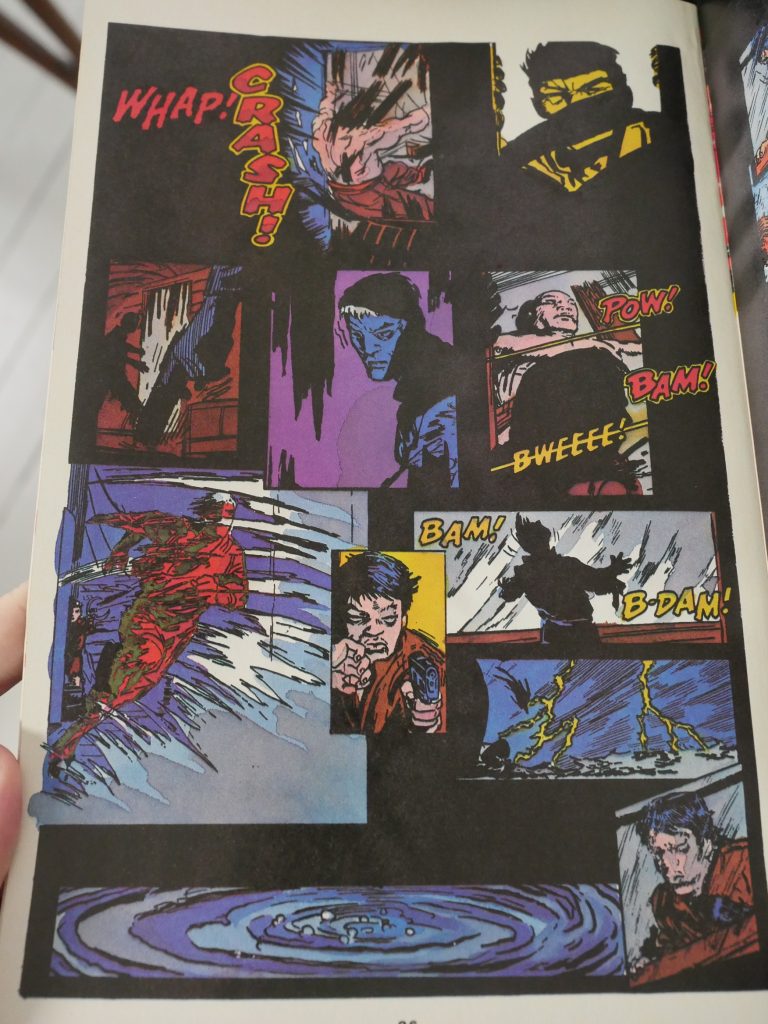 Trevor von Eeden does the artwork on an indifferent story about an amnesiac. I was all excited when I saw this page and thought that perhaps I was in for a treat, but it's pretty dull.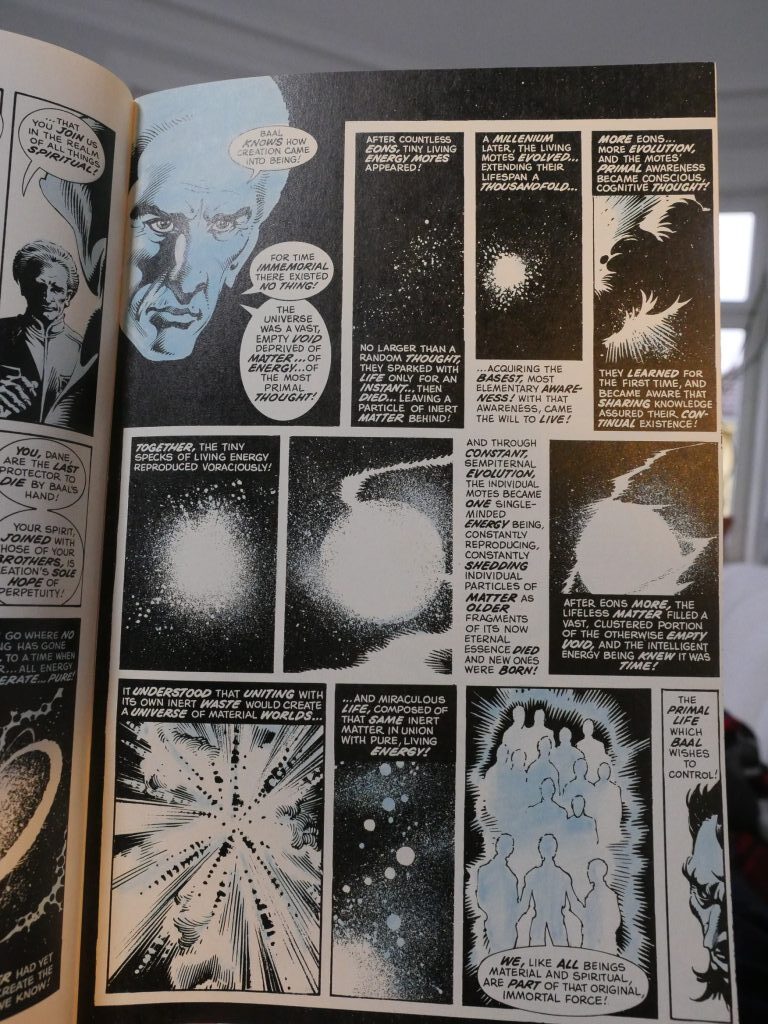 Did I mention the amount of exposition in the Time Force series?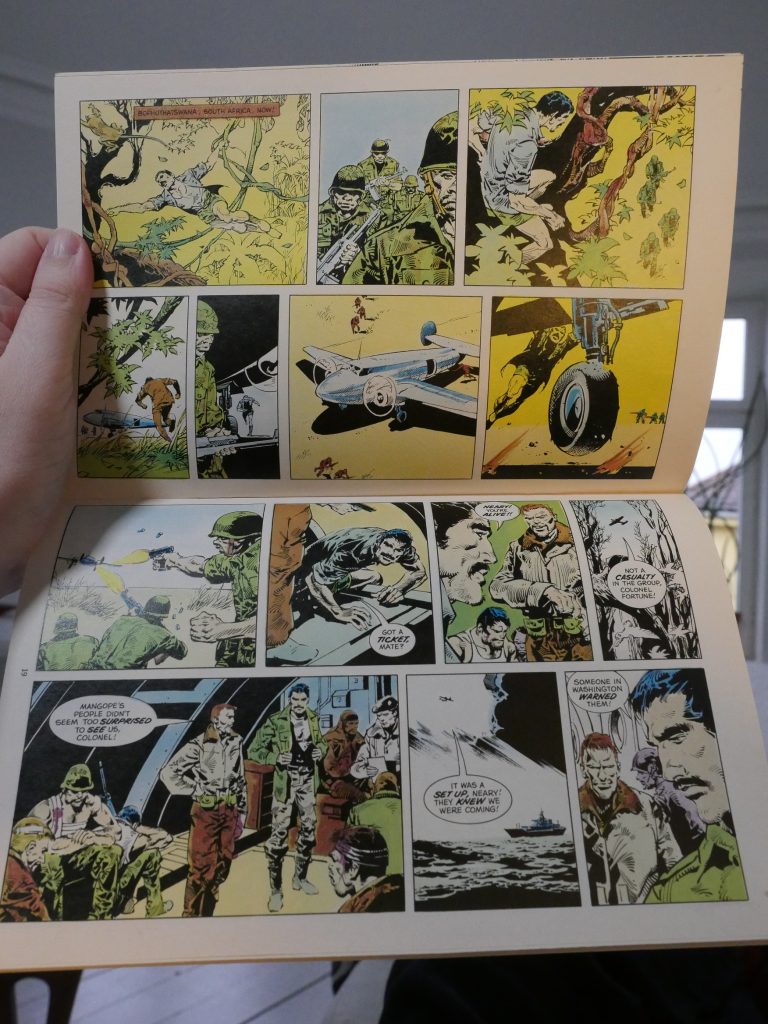 At least Alex Nino does good, solid adventure strip style artwork, but, again, the story is sheer piffle. But it reads well, so it's not all bad.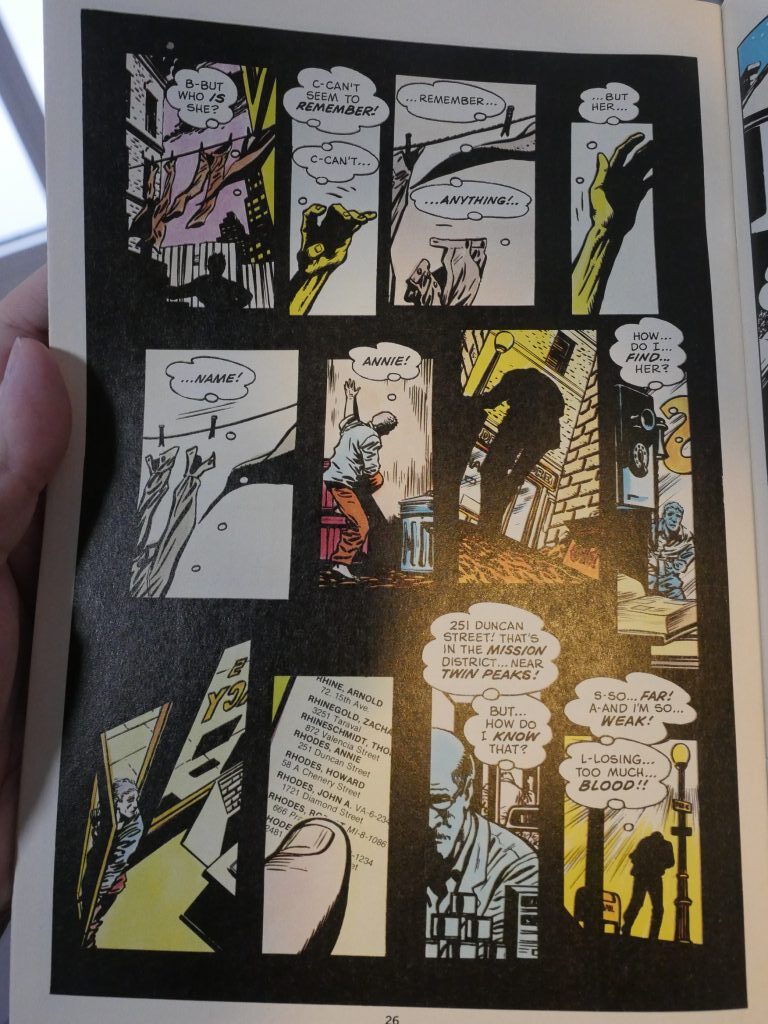 David Lloyd does the inking of the second chapter of the von Eeden thing, and things look distinctly less interesting. *sigh*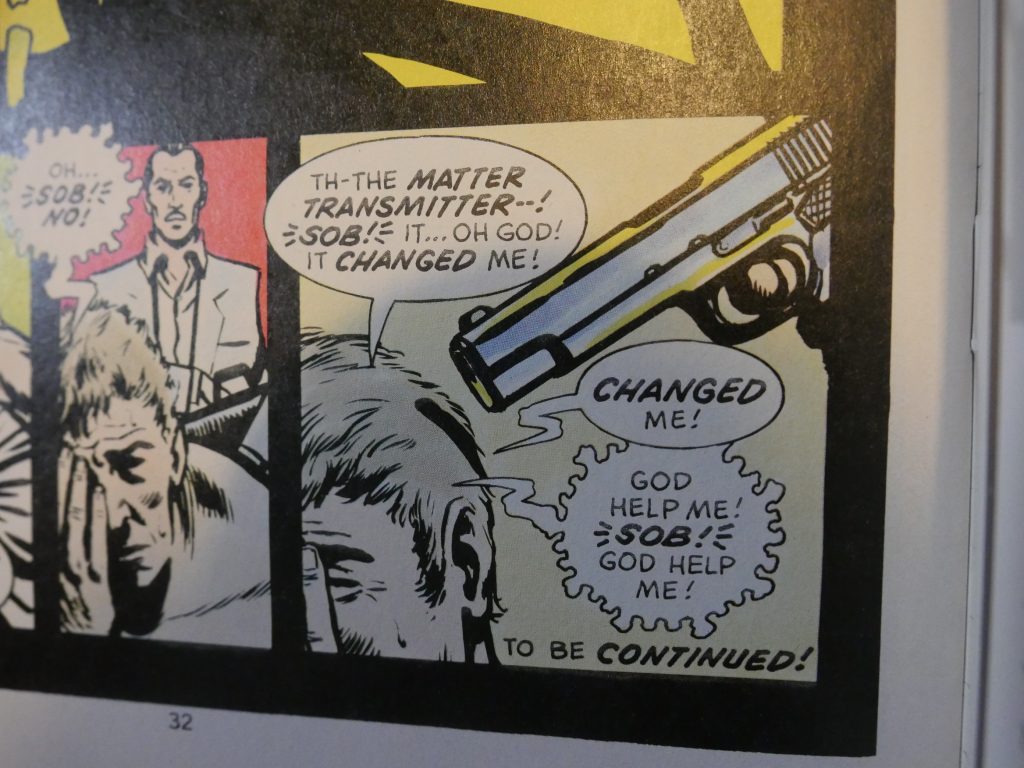 The von Eeden thing ends. It was not continued anywhere as far as I can tell. They did work together on the ill-fated Thriller book from DC Comics next year… but only for one issue? Odd.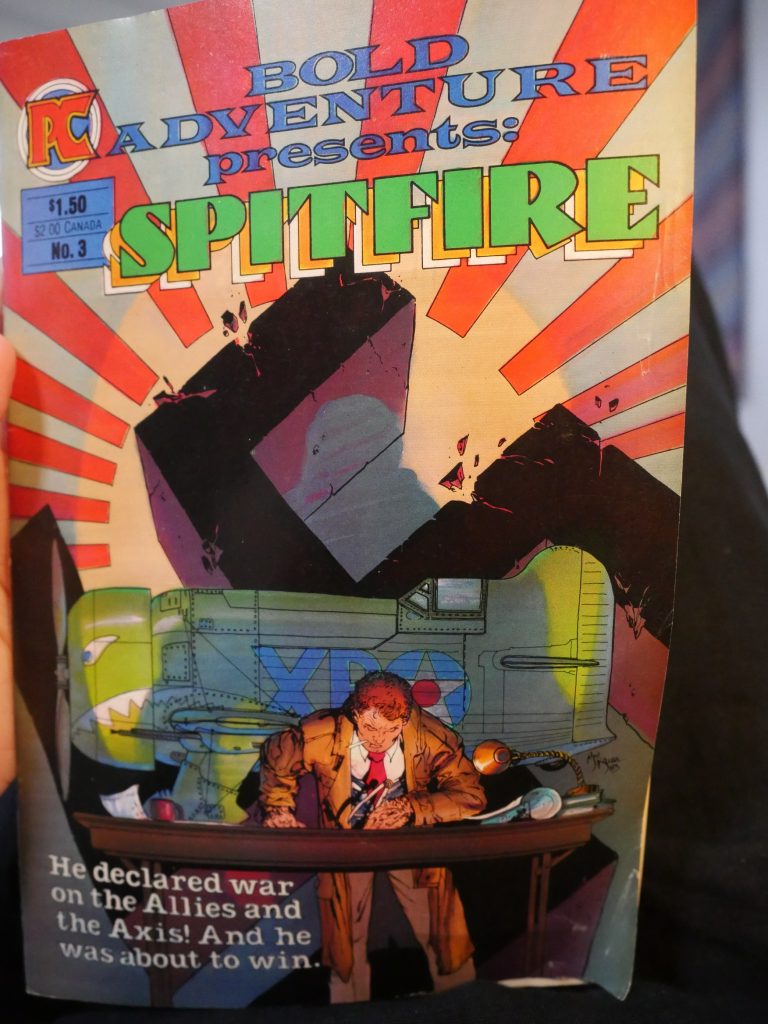 Wow! That's some cover by Michael William Kaluta. I love Kaluta.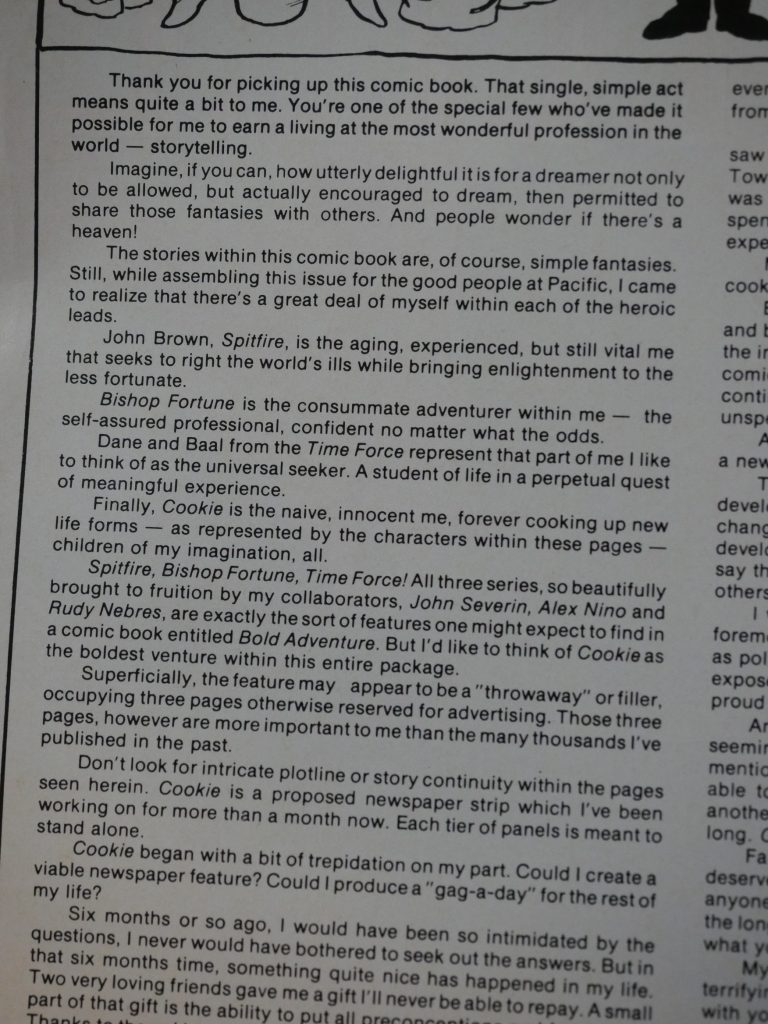 In the third and final issue, we finally get an introduction by DuBay, and he spends most of the time talking about his Cookie humour strip that he was trying to sell.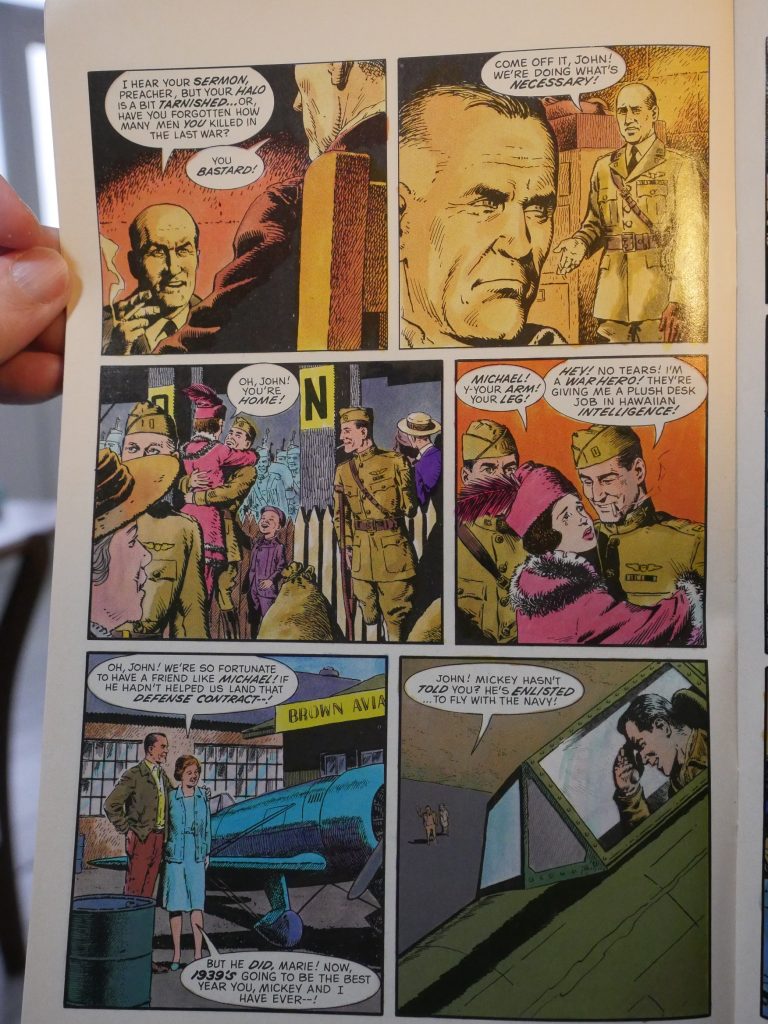 John Severin does the extremely nice artwork on this war story, but unfortunately it reads more like a plot recap than anything else.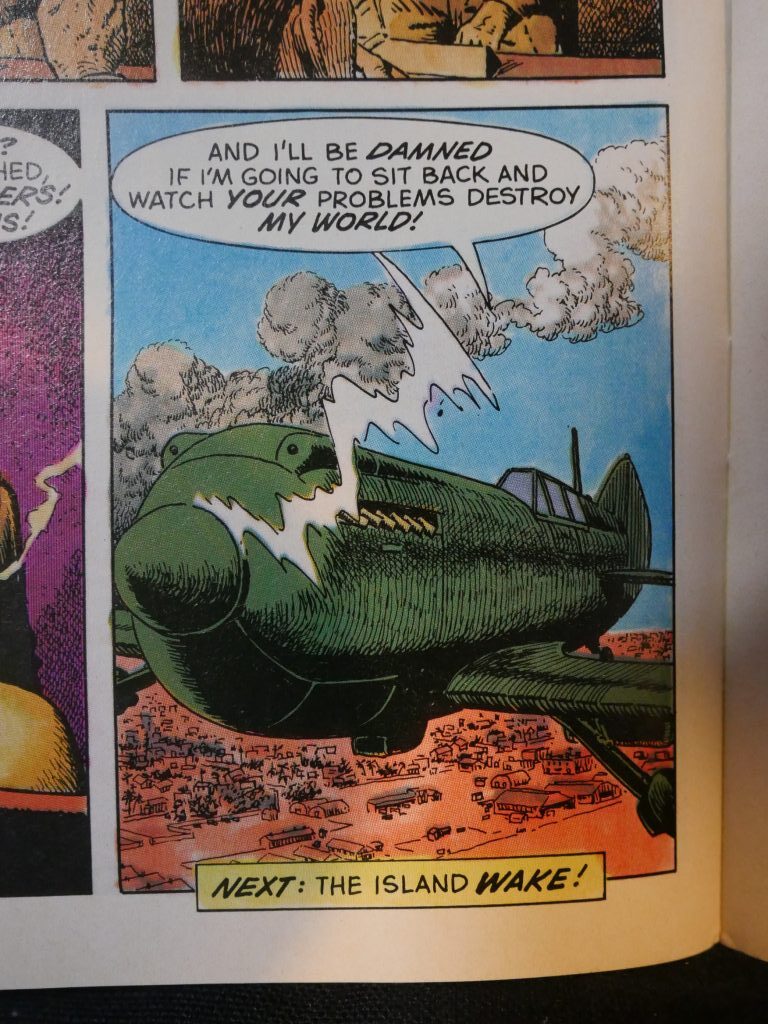 There was no "next".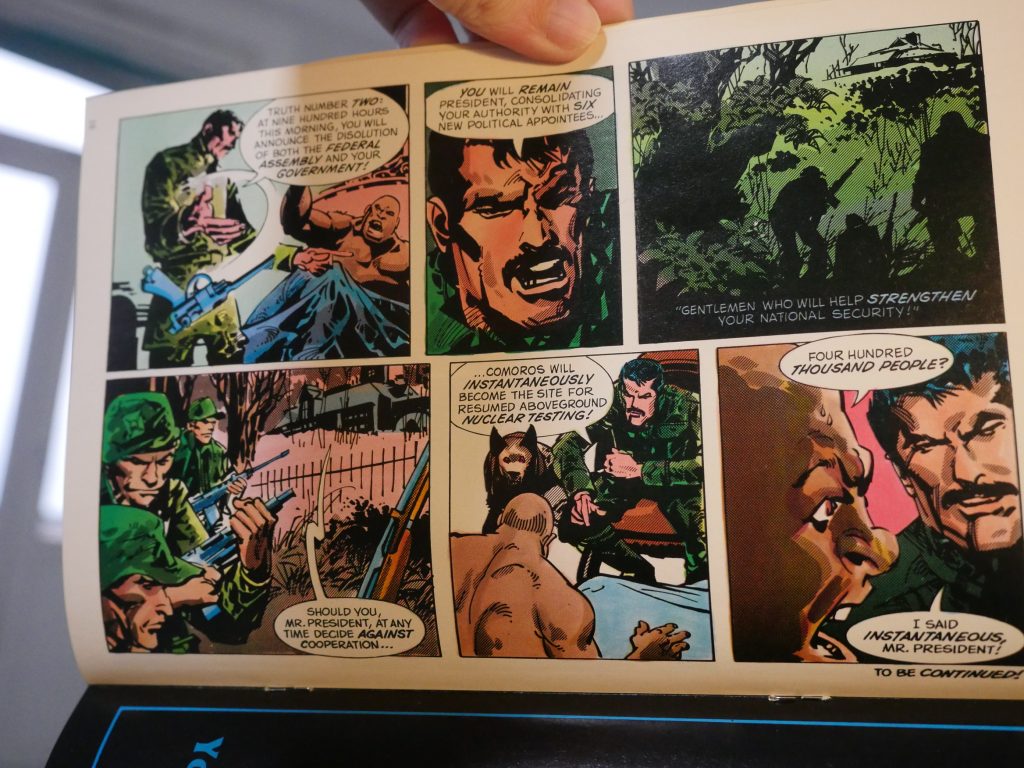 The Alex Nino thing ends on a "to be continued", too, after a chapter where our heroes threaten to kill an African country of 400K people with a nuclear bomb unless the president there severs connections with the Soviet Union.
*sigh*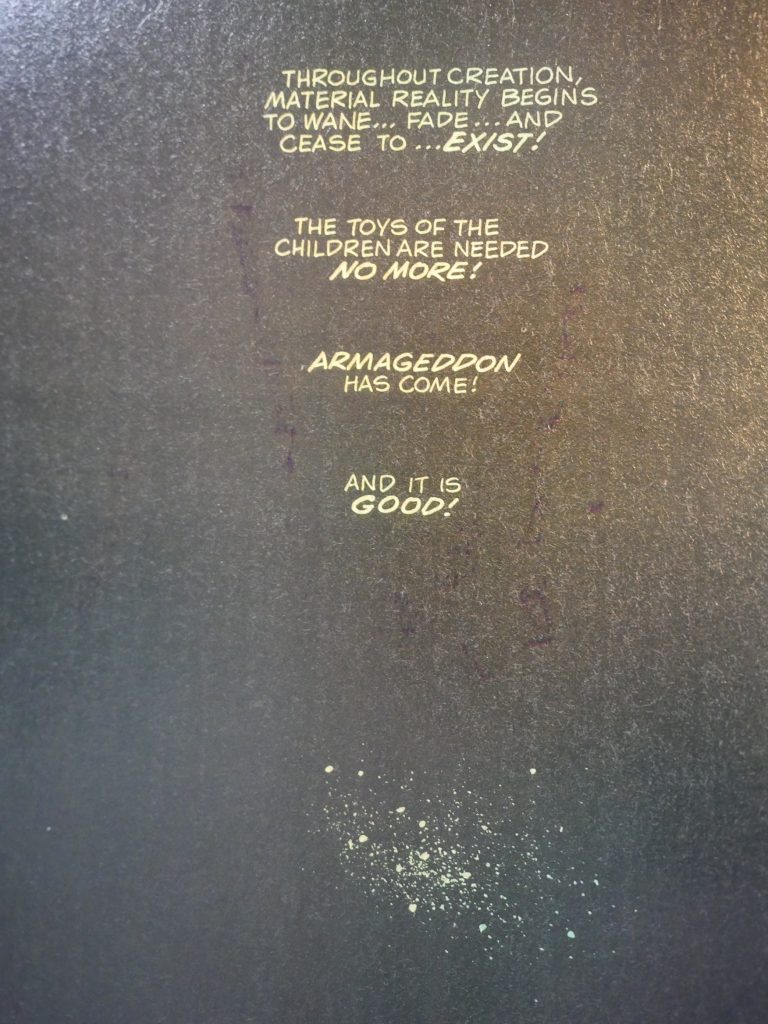 At least the main serial, Time Force, comes to an end. And when it ends, it really ends.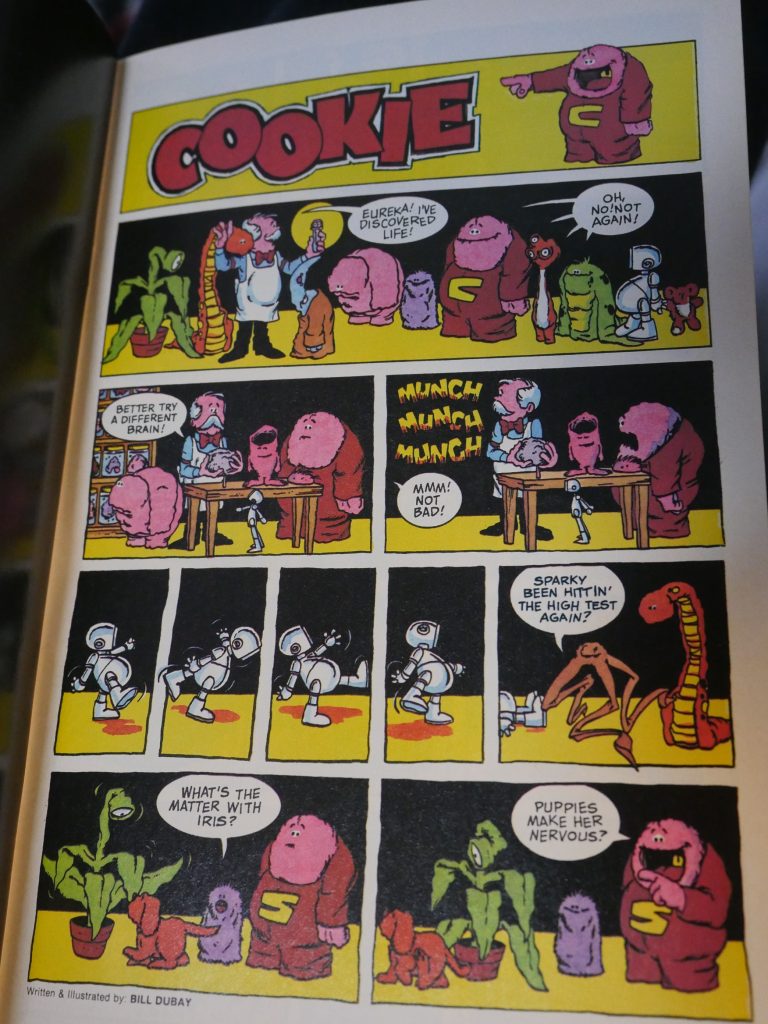 And that's the Cookie strip, which is allegedly meant to be funny.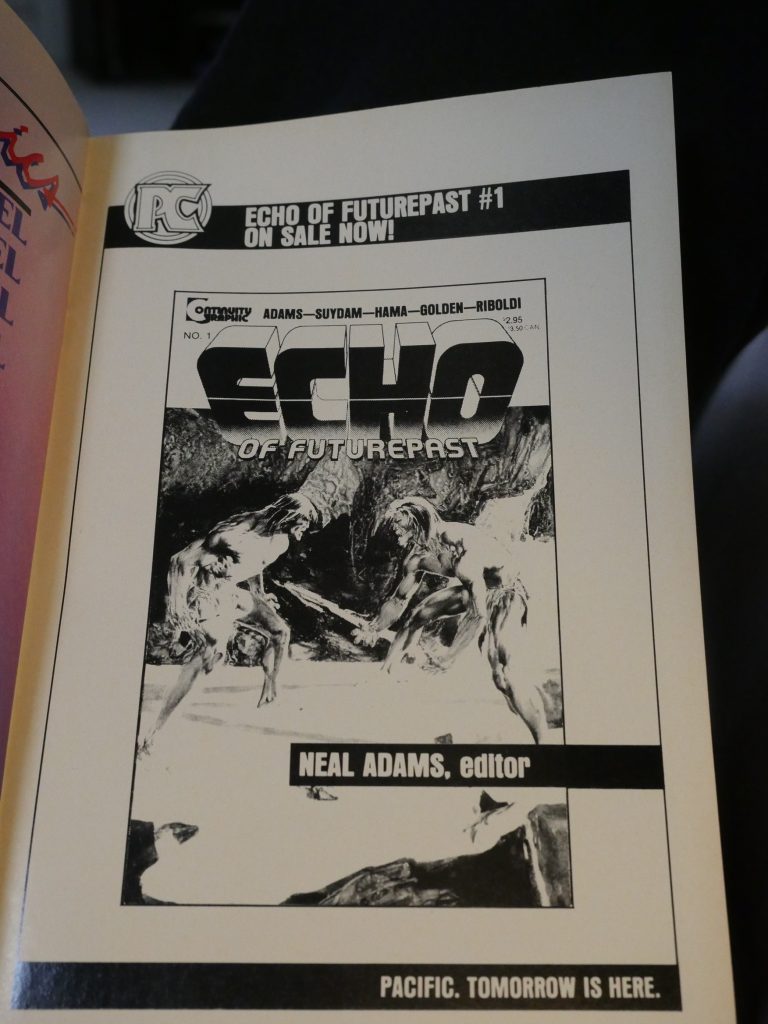 Hey! An ad for Echo of Futurepast with a Continuity logo on it. I don't think I've seen that before…
Anyway! Pacific comics went bankrupt and none of these comics have, I think, ever been reprinted. For very good and sound reasons.
But R A Jones disagrees:
R A Jones writes in Amazing Heroes #38, page 59
The pencils for "Time Force"
are supplied by Rudy Nebres,
an artist whose work can be ex-
tremely satisfying so long as he
curbs his tendency to let his wild
layouts interrupt the flow of the
story. In 'this story he does so,
and the result is very pleasant.

[…]

The final offering, entitled
"The Weirdling," is also set in
the time immediately preceding
World War II. Trevor Von
Eeden supplies the properly
moody artworlf for this tale of a
man who apparently transforms
into a shadowy demon of some
sort. The story is too short,
doing nothing more than lay the
groundwork for this continue
feature, and leaves you wanting
more.

Bold Adventure for the most
part eschews the graphic gore of
Pacific's other anthology titles.
Both "Time Force" and "The
Weirdling" show enough prom-
ise to warrant giving the book a
try. The main stumbling block to
its success may come if Pacific
lives up to its growing reputation
for being unable to get its books
out on schedule.
But I'm right, because Dale Luciano writes in The Comics Journal #88, page 51
On the subject of near-abstract icons of
Evil, writer-editor Bill DuBay resurfaces in
Pacific Comics's Bold Adventure #1 with
"Time Force," a tale of 12 "supremely
perfect offspring," bred in test tubes by a
"divine triumvirate" of gentle souls, and
sent to 12 different worlds to nurture the
gift of peace.

[…]

All Of this is an admittedly heady blend
of space opera and self-conscious Christian
symbolism , and none of it is entertaining in
the least unless you are a devoted fan Of
heavily metaphoric sadism. The preten-
tious dialogue is heavily strewn with
clunkers like ' 'I've got a painful martyrdom to
endure before I can rest!" and "The trouble
with being a God-son is that you know the out.
come of everything)!"

The two back-up features in Bold Adven-
Cure, DuBay and Bob McLeod's "Anacon-
da" and DuBay and Trevor Von Eden's
"The Weirdling," are truly awful, third-
rate stuff. I'm reliably advised that the cur-
rent battle for survival in the comics
marketplace involves the tactic Of flooding
the market with as much product as possi-
ble, with the intent Of driving the products
of the smaller companies off display shelves
in the specialty shops. Marvel seems to be
the guiltiest party, Of course, but Bold
Adventure seems to be the product of this
same strategy. I can't imagine Why else
Pacific Comics, which normally runs a
class act, would publish a dud like Bold
Adventure.